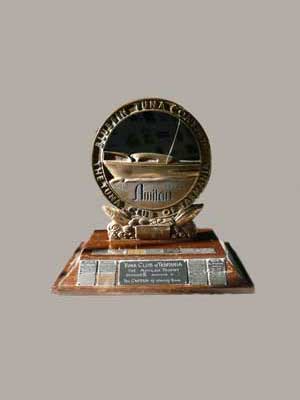 Amilan Trophy
Awarded to the winning team in a Club TGFA sanctioned contest on a boat under 6 metres LOA.
First Awarded
XXXX
History
Donated by John Hitet.
The Amilan Trophy for the winning team in a contest on a boat under 6 metres LOA. Established in 1969 after the Committee set up a second division for boats under 33 feet LOA without a professional skipper on board. Most boats in the early days were charter boats. Several members bought their own smaller boats to go out on their own. Amilan line was the most popular line line used during the 1960s and 1970s and is still available today. The trophy was donated by Mr. John Hitet, a Victorian who fished with Eddie Wigston for 10 years, and was the importer of Amilan into Australia.
Capture or Tag-and-Release
Either in accordance with GFAA & TGFA rules.
Eligibility
All teams affiliated with GFAA. Any GFAA eligible fish species including sharks caught on GFAA approved light tackle.
---
Trophy Winners