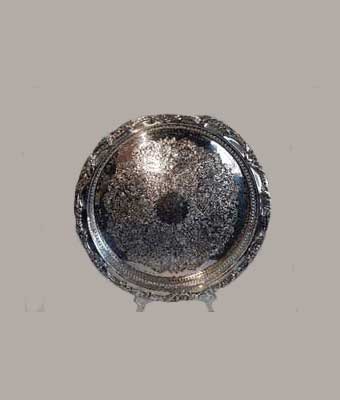 Peter Hindrum Trophy
Awarded to the angler who catches the first Bluefin Tuna over 50 lbs (22.6796 kg) each season.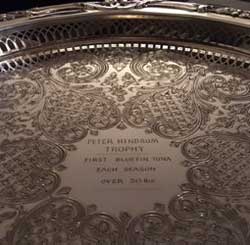 First Awarded
1969
History
This beautiful Stirling Silver Plate was donated by Mrs Alice Hindrum by which we remember Peter who was a pioneer game fisherman from Dunalley.
Capture or Tag-and-Release
Capture in accordance with GFAA & TGFA rules.
Eligibility
All Angler Classifications, Club Member.
---
Trophy Winners
| | | |
| --- | --- | --- |
| 2022 | Mark Watson | 65.0 kg |
| 2021 | Lochie Miller (S/Fry) | 87.9 kg |
| 2020 | - No Award - | 26.8 kg |
| 2019 | Stuart Conway | 70.3 kg |
| 2018 | Lochie Miller (S/Fry) | 26.8 kg |
| 2017 | Toby Nichols | 141.05 kg |
| 2016 | Antony Suttil | 126.20 kg |
| 2015 | Shane Kube | 42.60 kg |
| 2014 | Phillip Dance | 27.30 kg |
| 2013 | Simon Turner | 34.20 kg |
| 2012 | Sam Nichols | 24.30 kg |
| 2011 | Steve Lichtendonk | 24.20 kg |
| 2010 | Daniel Vallance | 25.60 kg |
| 2009 | Clint Beech | 25.20 kg |
| 2008 | Andrew Large | 91.60 kg |
| 2007 | - No Award - |   |
| 2006 | Mark Faulks | 72.40 kg |
| 2005 | - No Award - |   |
| 2004 | Ken Smith | 39 kg |
| 2003 | Andrew Large | 24.60 kg |
| 2002 | Mick Abbott | 27.40 kg |
| 2001 | Robin Banks | 33.40 kg |
| 2000 | Michael Doering | 29.80 kg |
| 1999 | D. Harper | 29.80 kg |
| 1998 | Keith Russell | 25.40 kg |
| 1997 | Donna Haper | 27.40 kg |
| 1996 | Matthew Steele | 26.50 kg |
| 1995 | Mick Clifford | 32 kg |
| 1994 | Shane Gertley | 27 kg |
| 1993 | Shane Heddle | 37 kg |
| 1992 | David Hallam | 30 kg |
| 1991 | Matthew Rose | 25.25 kg |
| 1990 | David Hallam | 23.30 kg |
| 1989 | David Rose | 34 kg |
| 1988 | Scott Johnston | 22.75 kg |
| 1987 | Toby Lyall | 40 kg |
| 1986 | Lee Harris | 35.25 kg |
| 1985 | Ashley Hallam | 126 kg |
| 1984 | - No Award - |   |
| 1983 | D Rose | 25 kg |
| 1982 | D Rose | 32 kg |
| 1981 | Bob Chung-Gon | 50.60 kg |
| 1980 | W. Vermey | 28 kg |
| 1979 | Danny Holmes | 57.3 lbs |
| 1978 | Ian Wigston | 73.7 lbs |
| 1977 | P.Hogan | 54 lbs |
| 1976 | Tony Little | 130 lbs |
| 1975 | Eddie Wigston | 142 lbs |
| 1974 | Gordon Oates | 50 lbs |
| 1973 | Eddie Wigston | 55lbs |
| 1972 | M Williams | 53 lbs |
| 1971 | Tom Bell | 54lbs |
| 1970 | Headly Oates | 52 lbs |
| 1969 | Jack Newman | 55 lbs |