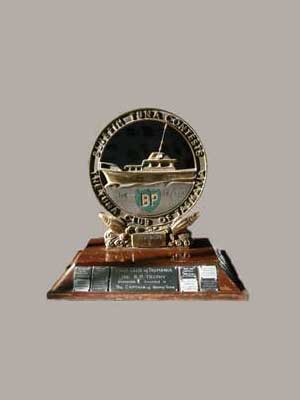 BP Trophy
Awarded to the winning team in a Club TGFA sanctioned contest on a boat over 6 metres LOA.
First Awarded
1969
History
Donated by BP.
Distributors of fuels and oils, and supporters of Bob Dyer's Pick-a-Box, BP donated a trophy for the winning team of the contest.
Capture or Tag-and-Release
Either in accordance with GFAA & TGFA rules.
Eligibility
All teams affiliated with GFAA. Any GFAA eligible fish species including sharks caught on GFAA approved light tackle.
---
Trophy Winners
2022
Stuart Nichols
Big Pig
2021
Jon Noble
Black Pearl
2020
No Award (Covid 19)
2019
Mark Hoey
Game Over
2018
Locki Nichols
Sea Wolf 2
2017
Locki Nichols
Sea Wolf 2
2016
Stuart Nichols
Big Pig
2015
Stuart Nichols
Big Pig
2014
Wade Wheeler
Reel Hooker
2013
Not Awarded
2012
John Edwards
The Other Woman
2011
Craig Hodge
Xstream Limits
2010
Not Awarded
2009
Lawrence Williams
Malissa
2008
Mark de Jong
Toucan
2007
Aaron Cashion
Satisfaction
2006
Contest called off
2005
Jon Noble
Black Pearl
2004
Steve Taranto
Big Pig
2003
Jon Noble
Black Pearl
2002
Steve Taranto
Big Pig
2001
Ryan Baillie , Gill n Gut
2000
Malcolm Fitzpatrick
Nunkeri
1999
Rod Cook
Cookie One
1998
John Holbrook
Jay R
1997
Steve Lichtendonk
Royal One
1996
Gerald Spaulding
Norseman 111
1995
Craig Johnston
Frustration
1994
Gerald Spaulding
Norseman 111
1993
Dr John Brennan
Sea Fox
1992
Dr John Brennan
Sea Fox
1991
Ralph Bottomly
Glass Cutter
1990
Ralph Bottomly
Glass Cutter
1989
Lee Harris
Midwatch
1988
David Hallam
Natasha
1987
David Hallam
Natasha
1986
John Brooker
Hangover
1985
Lee Harris
Midwatch
1984
John Brooker
Hangover
1983
Ian Cameron
Scottsman
1982
Lee Hariss
Midwatch
1981
Toby Lyell
Ben Hur
1980
Ted White
Mac David
1979
Ted White
Mac David
1978
Ted White
Mac David
1977
Ted White
Mac David
1976
Alf Gough
Honey Hush
1975
Ian Cameron
Jan Patrice
1974
Mark Cook
Tia Maria
1973
Ian Cameron
Rock Way
1972
W Coombs
Silver Spray
1971
Toby Lyall
Ben Hur
1970
Toby Lyall
Ben Hur