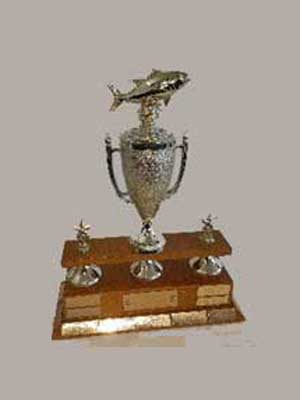 John Telfor Junior Trophy No 1
Awarded for the heaviest fish by a Junior Angler 12-15 years of age in Tasmanian waters.
First Awarded
1961
History
Established by John Telfor
John was the owner of Midwagh Trading, joining the Club in 1961 and immediately establishing a trophy for Junior anglers aged 14 to 21 years of age. Later the ages were lowered to 12 to 16, and a further trophy allocated to the under 12 category. John served on the Committee for a period from 1962 and was a keen promoter of Junior angling.
Capture or Tag-and-Release
Capture in accordance with GFAA & TGFA rules.
Eligibility
All Junior Anglers, Club Member.
---
Trophy Winners
2022
Spencer Cashion
88.20 kg Mako Shark on 24 kg line
2021
Lochie Miller
87.90 kg Southern Bluefin Tuna on 24 kg line
2020
Konnah Smith
106.80 kg Mako Shark on 37 kg line
2019
Jack Donovan
110.60 kg Mako Shark on 37 kg line
2018
Lochie Miller
26.80 kg Southern Bluefin Tuna on 15 kg line
2017
Toby Nichols
141.05 kg Southern Bluefin Tuna on 37 kg line
2016
Toby Nichols
16.30 kg Albacore on 10 kg line
2015
Toby Nichols
87.60 kg Mako Shark on 37 kg line
2014
Toby Nichols
14.50 kg Southern Bluefin Tuna on 10 kg line
2013
Zara Nelson
24.50 kg Southern Bluefin Tuna on 24 kg line
2012
Scott Salter
27.40 kg Southern Bluefin Tuna on 10 kg line
2011
Scott Salter
67.50 kg Mako Shark on 15 kg line
2010
Dylan Jarvis
24.30 kg Southern Bluefin Tuna on 24 kg line
2009
Locki Nichols
17.30 kg Southern Bluefin Tuna on 15 kg line
2008
Luke Gilbert
43.30 kg Yellowfin Tuna on 6 kg line
2007
Luke Gilbert
22.50 kg Yellowfin Tuna on 10 kg line
2006
Kieran Gilbert
5.37 kg Albacore on 10 kg line
2005
Kieran Gilbert
18.80 kg Albacore on 10 kg line
2004
Brendan Williams
7.46 kg Albacore on 8 kg line
2003
Kieran Gilbert
14.20 kg Albacore on 10 kg line
2002
Micheal Males
71.40 kg Mako Shark on 37 kg line
2001
Matthew Johnston
36.60 kg Mako Shark on 24 kg line
2000
Micheal Males
18 kg Yellowfin Tuna on 24 kg line
1999
Adam Reid
79.50 kg Mako Shark on 15 kg line
1998
Adam Reid
33 kg Mako Shark on 15 kg line
1997
Adam Reid
4.30 kg Albacore on 10 kg line
1996
- No Award -
1995
Michael Craik
2.60 kg Albacore on 6 kg line
1994
John Toohey
2.76 kg Albacore on 4 kg line
1993
Jamie Fitzpatrick
1.96 kg Albacore on 15 kg line
1992
- No Award -
1991
Shane Getley
25.50 kg Southern Bluefin Tuna on 15 kg line
1990
Rebecca Lynd
6.35 kg Albacore on 10 kg line
1989
Dean Belcher
7.8 kg Albacore on 8 kg line
1988
Dean Belcher
2.45 kg Albacore on 8 kg line
1985-1987
- No Award -
1984
Matthew Self
2,5 kg Albacore
1983
Wayne Artley
35.50 kg Blue Shark
1982
Matthew Rose
20.40 kg Southern Bluefin Tuna