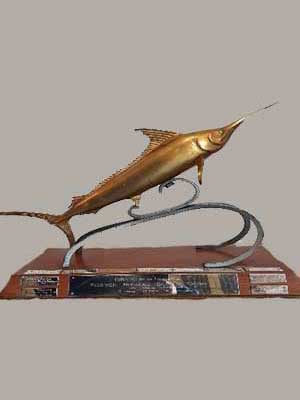 Fred Weil Memorial Trophy
Awarded for the heaviest Marlin captured in any waters by a Club member.
First Awarded
April 1967
History
Designed & donated by the late Mr Fred Weil (died Black Tuesday 7-Feb-1967).
Capture or Tag-and-Release
Capture in accordance with GFAA & TGFA rules.
Eligibility
All Angler Classifications, Club Member.
---
Trophy Winners
2003-2022
- No Award -
2002
Frank Frankcombe
90kg Striped Marlin
37kg line
2001
Andy Amos
79.5kg Striped Marlin
24kg line
2000
- No Award -
1999
Mark Schuetpelz
64kg Striped Marlin
24kg line
1998
Chris Shaw
115kg Striped Marlin
24kg line
1997
Danni Suttil
93.5kg Striped Marlin
37kg line
1994-1996
- No Award -
1993
Colin Minehan
115kg Striped Marlin
37kg line
1990-1992
- No Award -
1989
Kevin Belcher
123kg Marlin
24kg line
1984-1988
- No Award -
1983
Kim Payne
74.9kg Black Marlin
Sydney
1982
H Oates
128kg Striped Marlin
Eaglehawk Neck
1980-1981
- No Award -
1979
T Groves
123.5kg Striped Marlin
Eaglehawk Neck
1977-1978
- No Award -
1976
Pat Ogg
1,011lb Black Marlin
Cairns
1975
Ray Vincent
805lb Black Marlin
Cairns
1974
- No Award -
1973
Mark Cook
754lb Black Marlin
Cairns
1972
Ray Vincent
752lb Black Marlin
Cairns
1971
Ray Vincent
1,039lb Black Marlin
Cairns
1970
Eddie Wigston
119lb Black Marlin
Sydney
1969
John Raven
590lb Black Marlin
Cairns
1968
Lloyd Phillips
584lb Black Marlin
Cairns
1967
Lloyd Phillips
725lb Black Marlin
Cairns
1966
John Jacob
270lb Black Marlin
Cairns