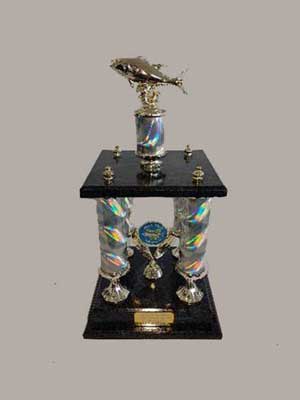 Robin Banks Trophy
Awarded for the highest individual Tag & Release point score Adult Angler during Club Rallies and Contests each season.
First Awarded
2001
History
Donated by Mr Robin Banks, former President.
Capture or Tag-and-Release
Tag-and-Release in accordance with GFAA & TGFA rules using approved tags.
Eligibility
Adult Angler, Club Member.
---
Trophy Winners
| | | |
| --- | --- | --- |
| 2021 | Richard Adler | 80,000 points |
| 2020 | Ryley Dance | 55,000 points |
| 2019 | Phillip Dance | 30,000 points |
| 2018 | Richard Adler | 35,000 points |
| 2017 | Brad Townsend | 55,000 points |
| 2016 | Dylan Jarvis | 140,000 points |
| 2015 | Mark Watson | 35,000 points |
| 2014 | Mark Watson | 65,100 points |
| 2013 | Leo Miller | 120,700 points |
| 2012 | Leo Miller | 155,300 points |
| 2011 | Daniel Holmes | 35,000 points |
| 2010 | Daniel Holmes | 35,500 points (tie) |
| 2010 | Mark Watson | 35,500 points (tie) |
| 2009 | Chris Tanner | 60,000 points |
| 2008 | Rainer Walter | 11,300 points |
| 2007 | Daniel Vallance | 84,400 points |
| 2006 | Ben Oakley | 15,500 points |
| 2005 | Steve Everington | 4,000 points |
| 2004 | Ben Oakley | 10,500 points |
| 2003 | Martin McConnon | 20,000 points |
| 2002 | Ryan Baillie | 35,500 points |
| 2001 | Randall Harper | 56,000 points |