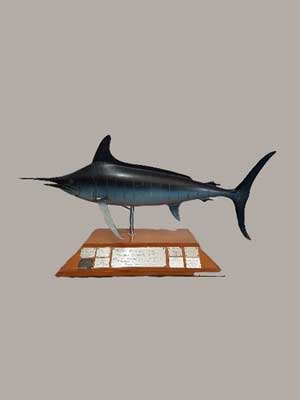 Jacob & Canning Trophy
Awarded for the heaviest Marlin captured in Tasmanian waters by a Club member.
First Awarded
1969
History
Donated by Mr John Jacob & Dr Eric Canning.
Cast made by Tom Jenkins.
Capture or Tag-and-Release
Capture in accordance with GFAA & TGFA rules.
Eligibility
All Angler Classifications, Club Member.
---
Trophy Winners
2003–2022
- No Award -
2002
Frank Frankcombe
90 kg Striped Marlin on 37 kg line
2001
Andy Amos
79.50 kg Striped Marlin on 24 kg line
1999
Mark Schuetpelz
64 kg Striped Marlin on 24 kg line
1998
Chris Shaw
115 kg Striped Marlin on 24 kg line
1997
Danni Suttil
93 kg Striped Marlin on 37 kg line
1993
Colin Minehan
115 kg Striped Marlin on 37 kg line
1989
K Belcher
123 kg Striped Marlin
1982
H Oates
128 kg Striped Marlin
1979
T Groves
123.50 kg Striped Marlin
1976
A Lyall
341 lb Striped Marlin
1969
Keith Jessup
297.50 lb Striped Marlin