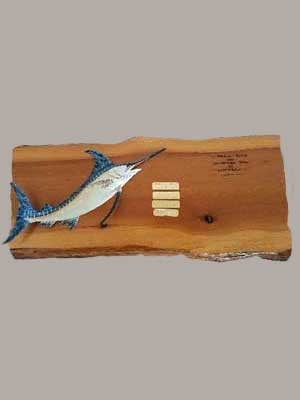 Kevin Minehan Memorial Trophy
Awarded for the heaviest Tuna captured by a Female Small Fry Angler in Tasmanian waters each season.
First Awarded
2003
History
Donated by Mr Scott Minehan.
Capture or Tag-and-Release
Capture in accordance with GFAA & TGFA rules.
Eligibility
Female Small Fry Angler (11 years & under), Club Member.
---
Trophy Winners
2022
Brooke Harris
15 kg Southern Bluefin Tuna on 8 kg line
2021
Sarah Nichols
18 kg Southern Bluefin Tuna on 10 kg line
2020
Sarah Nichols
8.7 kg Southern Bluefin Tuna on 6 kg line
2019
Sarah Nichols
15 kg Southern Bluefin Tuna on 15 kg line
2018
Mollie Hammersley
12.50 kg Southern Bluefin Tuna on 10 kg line
2017
Mollie Hammersley
20.10 kg Southern Bluefin Tuna on 15 kg line
2016
- No Award -
2015
Emma Bennett
7.80 kg Albacore on 4 kg line
2014
- No Award -
2013
Zara Nelson
24.50 kg Southern Bluefin Tuna on 24 kg line
2012
Jenna Nichols
13.20 kg Southern Bluefin Tuna on 10 kg line