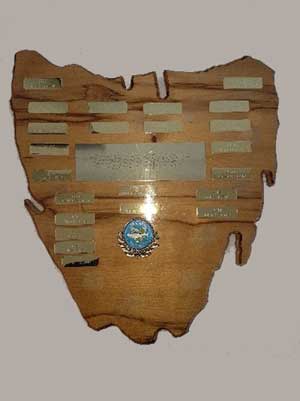 Nunkeri Trophy
A light hearted trophy awarded to a surprise recipient each season, judged by the Committee from nominations received for strange or funny happenings throughout the year.
First Awarded
1996
History
Donated by Mr Malcom Fitzpatrick.
Trophy named after his former vessel the Nunkeri aboard which we understand there was known to be some light-hearted banter.
Capture or Tag-and-Release
n/a
Eligibility
All Angler Classifications, Club Member.
---
Trophy Winners
| | |
| --- | --- |
| 2022 | Shane Kube |
| 2021 | Gary Howe |
| 2020 | Adrian Pursell |
| 2019 | John Edwards |
| 2018 | Jamie McCullagh |
| 2017 | Jamie McCullagh |
| 2016 | Mark Watson |
| 2015 | James Lee |
| 2014 | John Edwards |
| 2013 | Adrian Morrisby |
| 2012 | Brock Soul |
| 2011 | Ken Griffin |
| 2010 | Darren Bennett |
| 2009 | Matthew Taylor |
| 2008 | - Not Awarded - |
| 2007 | Marcus Baillie |
| 2006 | Ben Oakley |
| 2005 | Brian Gangell |
| 2004 | Steve Cooper |
| 2003 | Ryan Baillie |
| 2002 | Sandra Harper |
| 2001 | Murray Salter |
| 2000 | Robert ( Wilba ) Wardlaw |
| 1999 | Colin van den Hoff |
| 1998 | Tony James |
| 1997 | Matthew Martin |
| 1996 | Mark Mansfield |
| 1995 | Robbie Wallace |