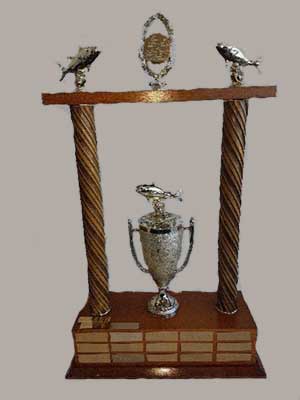 Sandra Harper Trophy
Awarded for the heaviest Game Fish captured in Tasmanian waters by a Lady Club member each season.
First Awarded
1983
History
Established in the 1980s to replace the C. W. Reardon Trophy.
Capture or Tag-and-Release
Capture in accordance with GFAA & TGFA rules.
Eligibility
Adult Female Angler, Club Member, 16 years and above.
---
Trophy Winners
| | | |
| --- | --- | --- |
| 2022 | Molly Curtain | 194.30kg Mako Shark |
| 2021 | Danni Males | 159.30kg Mako Shark |
| 2020 | Danni Males | 82.6kg Mako Shark |
| 2019 | Emile Donovan | 109kg Mako Shark |
| 2018 | Chloe Hammersley | 112kg SBT |
| 2017 | Chloe Hammersley | 110.10kg Mako Shark |
| 2016 | Carleen Hitchen | 17.80kg SBT |
| 2015 | Tracy Purcell | 81kg Mako Shark |
| 2014 | Carleen Hitchen | 13.5kg SBT |
| 2013 | Melissa Nelson | 108.5kg SBT |
| 2012 | Samantha Heddle | 18.10kg SBT |
| 2011 | Emily Salter | 18.3kg SBT |
| 2010 | - No Award - |   |
| 2009 | Carleen Hitchens | 24.4kg SBT |
| 2008 | Alison Hill | 18.8kg SBT |
| 2007 | Katie Russell | 15.00kg SBT |
| 2006 | Narelle Midgley | 8.00kg Albacore |
| 2005 | Pam Noble | 8.85kg Albacore |
| 2004 | Kate Russell | 14.2kg Albacore |
| 2003 | Sandra Harper | 10.4kg Albacore |
| 2002 | Sandra Harper | 27.6kg SBT |
| 2001 | Sheryl Baillie | 30.5 SBT |
| 2000 | Donna Harper | 68kg Mako Shark |
| 1999 | Sandra Harper | 77kg Mako Shark |
| 1998 | Donna Harper | 53.50 Mako Shark |
| 1997 | Donna Harper | 27.4kg SBT |
| 1996 | Sandra Harper | 58kg Mako Shark |
| 1995 | Sandra Harper | 27kg Mako Shark |
| 1994 | Sandra Harper | 19.4kg Albacore |
| 1993 | Sandra Harper | 40.50kg Blue Shark |
| 1992 | Sandra Harper | 16.6kg SBT |
| 1991 | Sandra Harper | 25.2kg SBT |
| 1990 | Denise Willey | 20.5kg SBT |
| 1989 | Pauline Rose | 24.75kg SBT |
| 1988 | Rebecca Hallam | 24.5kg SBT |
| 1987 | Rebecca Hallam | 65kg Mako Shark |
| 1986 | Julie Harris | 14.5kg SBT |
| 1985 | Pauline Rose | 28kg Blue Shark |
| 1984 | Kim Payne | 38.5kg Blue Shark |
| 1983 | Pauline Rose | 2.75kg Albacore |
| 1983 | K A Cole | 26.75kg SBT |