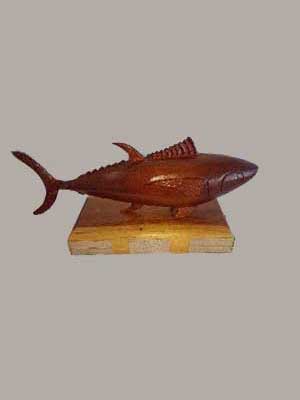 Graham Artley Junior Trophy
Awarded for the highest aggregate points scored for all game fish species (excluding sharks) captured during all Club & TGFA sanctioned contests.
First Awarded
1984
History
Donated by Mr Graham Artley.
Graham served as Club President in 1984/85. He fished in an aluminium bpat Miss Tracey with his son Wayne and friend Alan Hovington. Affectionately known an Sharkey, Graham was a keen shark fisherman, mostly on light line (6 to 10 kg). He golds several Tasmanian records for blue and mako sharks and was a keen promoter of Junior fishing.
Capture or Tag-and-Release
Capture in accordance with GFAA & TGFA rules.
Eligibility
All Junior Anglers (12-15 years), Club Member.
---
Trophy Winners
| | | |
| --- | --- | --- |
| 2022 | Sarah Nichols | 1361.28 points |
| 2021 | Blake Lampkin | 1608.11 points |
| 2020 | Max Baillie | 1038 points |
| 2019 | Jack Donovan | 1010.31 points |
| 2018 | Toby Nichols | 1022.50 points |
| 2017 | Angus Scarfe | 882.91 points |
| 2016 | Dylan Baker | 1920.25 points |
| 2015 | Sam Nichols | 613 points |
| 2014 | Locki Nichols | 966.74 points |
| 2013 | Sam Nichols | 463 points |
| 2012 | Locki Nichols | 670.81 points |
| 2011 | Scott Salter | 996 points |
| 2010 | Dylan Jarvis | 919.87 points |
| 2009 | Locki Nichols | 695.50 points |
| 2008 | Jason Harrison | 1585.83 points |
| 2007 | Zac Watson | 1380 points |
| 2006 | Matthew Johnston | 599.86 points |
| 2005 | James Goodluck | 1020.83 points |
| 2004 | Daniel Cooper | 480.18 points |
| 2003 | Jason Hill | 506 points |
| 2002 | Michael Males | 2658.72 points |
| 2001 | Jason Smith | 950.30 points |
| 2000 | Thomas Doering | 255 points |
| 1999 | Adam Ried | 559.10 points |
| 1998 | Jason Smith | 587.70 points |
| 1997 | Justin Myers | 316.30 points |
| 1996 | Ty Little | 468.83 points |
| 1995 | Dale Little | 705.40 points |
| 1994 | Shane Getley | 371.25 points |
| 1993 | Simon Lampkin | 364.90 points |
| 1992 | Shane Getley |   |
| 1991 | Shane Getley |   |
| 1990 | Rebecca Lynd | 161.85 points |
| 1989 | Brendan Lakoseljac | 307 points |
| 1988 | Rebecca Hallam | 893 points |
| 1987 | Mattew Rose | 358.10 points |
| 1986 | Tim Rose | 272.50 points |
| 1985 | Tim Rose | 387.30 points |
| 1984 | Ashley Hallam | 8524.75 points |