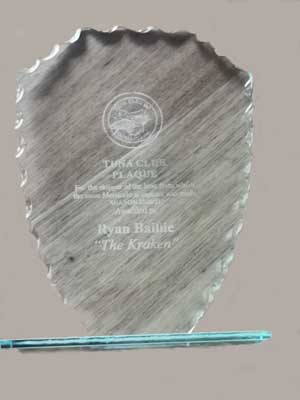 Tuna Club Plaque
Awarded to the skipper of the boat from which the most meritorious capture award (John Stanton Trophy) was made.
First Awarded
1996
History
This plaque is not a perpetual award retained at the club, but a special plaque given to the skipper of the boat described above each year. The image here is one such example.
Capture or Tag-and-Release
Capture in accordance with GFAA & TGFA rules.
Eligibility
Vessel Skipper.
---
Trophy Winners
| | | |
| --- | --- | --- |
| 2022 | Archie Cashion | "Mid Watch" |
| 2021 | Ryan Baillie | "The Kraken" |
| 2020 | Ryan Baillie | "The Kraken" |
| 2019 | Marc Lagerewskij | "Magik 1" |
| 2018 | Justin Rigby | "Big Rig" |
| 2017 | Leo Miller | "Choona Chasa" |
| 2016 | Nick Bailey | "Mako-Ver" |
| 2015 | Leo Miller | "Choona Chasa" |
| 2014 | Leo Miller | "Choona Chasa" |
| 2013 | Matthew Pace | "Always Greener" |
| 2012 | Archie Cashion | "Big Kahuna" |
| 2011 | Archie Cashion | "Big Kahuna" |
| 2010 | Nick Daft | "Dawn Treader" |
| 2009 | Stephen Harrison | "Off Shore Weapon" |
| 2008 | Greg Plunkett | "Lone Wolf" |
| 2007 | Steve Gilbert | "Moonshine" |
| 2006 | Ryan Baillie | "Gill n Gut" |
| 2005 | Tony Oates | "Rowmarkurble" |
| 2004 | Scott Bowerman | "Reel Deal" |
| 2003 | Jon Noble | "Black Pearl" |
| 2002 | Simon Nuss | "Rowmarkurble" |
| 2001 | Mick Boxall | "Wild Card" |
| 2000 | Randall Harper | "Get Reel" |
| 1999 | Robin Banks | "Crazy Bear" |
| 1998 | Robin Banks | "Crazy Bear" |
| 1997 | Tony James | "Nunkeri" |
| 1996 | Scott Johnston | "Reel Game" |