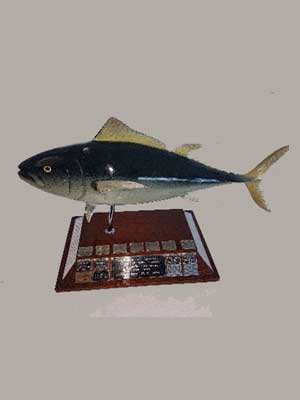 Keith Jessup Trophy
Awarded for the highest point scoring Bluefin Tuna captured on a boat 6m and under in Tasmanian waters.
First Awarded
1969
History
Donated by Mr Keith Jessup
Cast by Tom Jenkins.
Keith began his game fishing in a 19'3" cruiser named Sea Rover which he operated as a charter vessel out of Coles Bay, fishing mainly around Schouten Island. Sea Rover was a prolific catcher with a record 30 Bluefin per day during the heady early days of the 1960s. "Sea Rover was later sold and replace with Sea Rover 2, an equally prolific catcher with a record 881 Bluefin caught during one season, 1967/68. Sea Rover 2 was equally adept at catching sharks, often coming to port with a mixed bag of sharks and Bluefin, Albacore and Striped Tuna. Keith is credited with catching Tasmania's first Striped Marlin weighing 297.5 lbs in 1969. Sea Rover 2 was one of the first specialist Game Boats in Tasmania, being all steel with twin screws and with Game Chairs, outriggers and a capacity of up to 10 anglers. Sea Rover 2 was eventually destroyed on the notorious St Helens barway.
Capture or Tag-and-Release
Capture in accordance with GFAA & TGFA rules.
Eligibility
All Angler Classifications, Club Member.
---
Trophy Winners
2022
Blake Lampkin
12.70 kg on 8 kg line
2021
Blake Lampkin
13.25 kg on 6 kg line
2020
Katie Russell
12.10 kg on 8 kg line
2019
Danny Smith
19.60 kg on 6 kg line
2018
Simon Turner
32.70 kg on 8 kg
2017
Dan Walton
18.90 kg on 6 kg
2016
Carleen Hitchens
14.50 kg on 4 kg
2015
Andrew Dyson
16.10 kg on 10 kg
2014
Trevor Bennett
21.40 kg on 10 kg
2013
Melissa Nelson
108.50 kg on 37 kg
2012
Mark Watson
21.90 kg on 15 kg
2011
Mark Watson
21.80 kg on 8 kg
2010
Dylan Jarvis
21.00 kgs on 10 kg
2009
Michael Jessup
20.70 kg on 8 kg
2008
Andrew Large
91.30 kg on 15 kg
2007
Brian Crosswell
8.80 kg on 4 kg (tie)
2007
Gerald Russell
13.80 kg on 6 kg (tie)
2006
- No Award -
2005
- No Award -
2004
Steve Cooper
47.50 kg on 24 kg
2003
- No Award -
2002
Chris Peterson
29.80 kg on 10 kg
2001
Donna Harper
25 kg on 8 kg
2000
Simon Willey
42.60 kg on 24 kg
1999
Robert Cooper
61.50 kg on 24 kg
1998
Jon Plunkett
28.60 kg on 8 kg
1997
Andrew Belstead
35.60 kg on 15 kg
1996
Matthew Steele
26.50 kg on 8 kg
1995
John Hebbink
28.80 kg SBT on 15 kg (tie)
1995
Shane Heddle
28.80 kg SBT on 15 kg (tie)
1994
Shane Heddle
25.20 kg SBT on 10 kg
1993
Michael Longford
23.20 kg SBT on 8kg
1992
Sandra Harper
16.60 kg on 10 kg
1991
Sandra Harper
25.20 kg on 15 kg
1990
Ken Clark
19.50 kg on 8 kg
1989
Tony Godfrey
22.60 kg on 8 kg
1988
Jon Plunkett
21.75 kg on 6 kg
1987
Paul Minehan
16.40 kg on 6 kg
1986
Ashley Hallam
11.25 kg on 4 kg
1985
Ashley Hallam
126 kg SBT
1984
- No Award -
1983
Allen Ziebel
22 kg SBT
1982
Ashley Hallam
13.75 kg SBT
1981
D Mallinson
27.50 kg SBT
1980
John Hiezer
24.25 kg SBT
1979
P White
25 kg SBT
1978
Ian Wigston
33.50 kg SBT
1977
G Harvey
213,1/2 lb SBT
1976
Tony Little
130 lb SBT
1975
Eddie Wigston
142 lb SBT
1974
John Hiezer
44 lb SBT
1973
H W Oates
61 lb SBT
1972
Ian Cameron
42 lb SBT
1971
Eddie Wigston
51 lb SBT
1970
Heddle Oates
52 lb SBT
1969
Jack Newman
55 lb SBT