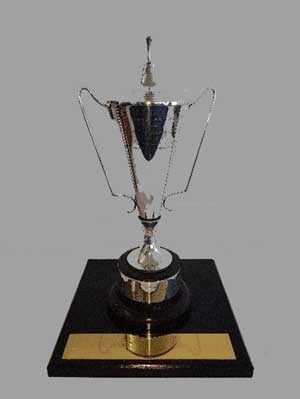 John Stanton Trophy
Awarded for the most meritorious capture by a Club member in Tasmanian waters and is traditionally awarded to the highest point score capture fish.
First Awarded
1961
History
Donated by the foundation President of the Club, Mr John Stanton.
Capture or Tag-and-Release
Capture in accordance with GFAA & TGFA rules.
Eligibility
All Angler Classifications, Club Member.
---
Trophy Winners
| | | |
| --- | --- | --- |
| 2022 | Danny Smith | 16.00kg Southern Bluefin Tuna - 4kg Tackle |
| 2021 | Ryan Baillie | 89.9kg Mako - 10kg Tackle |
| 2020 | Max Baillie Jnr | 155.7kg Mako Shark - 15kg Tackle |
| 2019 | Marc Lagerewskij | 319.70kg Broadbill - 37kg Tackle |
| 2018 | Simon Turner | 117.9kg Mako Shark - 8kg Tackle |
| 2017 | Justin Rigby | 153.2kg Broadbill - 37kg Tackle |
| 2016 | Josh Bailey | 92.6kg Mako Shark - 10kg Tackle |
| 2015 | Kyle Longmore | 263.5kg Broadbill - 24kg Tackle |
| 2014 | Leo Miller | 106.8kg Broadbill - 37kg Tackle |
| 2013 | Alex Green | 21.10kg SBT - 4kg Tackle |
| 2012 | Kodie Madden | 139.1kg Mako Shark - 24kg Tackle |
| 2011 | Shane Kube | 206.2kg Mako Shark - 24kg Tackle |
| 2010 | Jason Head | 20.2kg SBT - 8kg Tackle |
| 2009 | Brady Wessing | 61.6kg Mako Shark - 4kg Tackle |
| 2008 | Luke Gilbert | 43.3kg YFT - 6kg Tackle |
| 2007 | Kieran Gilbert | 29kg YFT - 6kg Tackle |
| 2006 | Ryan Baillie | SBT - 15kg Tackle |
| 2005 | James Goodluck Jnr | 245kg Mako Shark - 24kg Tackle |
| 2004 | Scott Bowerman | 68kg YFT - 10kg Tackle |
| 2003 | Matthew Martin | 18kg Albacore - 6kg Tackle |
| 2002 | Simon Nuss | 141.5kg Mako Shark - 24kg Tackle |
| 2001 | Mick Boxhall | 146kg Mako Shark - 15kg Tackle |
| 2000 | Donna Harper | 68kg Mako Shark - 8kg Tackle |
| 1999 | S Banks | 67kg Mako Shark - 10kg Tackle |
| 1998 | Shane Banks | 52.6kg Mako - 6kg Tackle |
| 1997 | Malcolm Fitzpatrick | 36kg SBT - 10kg Tackle |
| 1996 | S Johnston | 216kg Mako Shark - 24kg Tackle |
| 1995 | Wade Pelham | 99kg Mako Shark - 24kg Tackle |
| 1994 | Matthew Rose | 25.6kg SBT - 10kg Tackle |
| 1993 | Scott Johnston | 26kg Mako Shark - 2kg Tackle |
| 1992 | David Hallam | 91kg Mako Shark - 8kg Tackle |
| 1991 | Ashley Hallam | 96kg Mako Shark - 8kg Tackle |
| 1990 | Ashley Hallam | 88kg Mako Shark - 8kg Tackle |
| 1989 | Lee Harris | 20.6kg SBT - 4kg Tackle |
| 1988 | Lee Harris | 19.2kg SBT - 4kg Tackle |
| 1987 | Ashley Hallam | 19kg SBT - 4kg Tackle |
| 1986 | Ashley Hallam | 47.5kg Mako - 4kg Tackle |
| 1985 | Ashley Hallam | 126kg SBT - 37kg Tackle |
| 1984 | Kim Payne | 38.5kg Blue Shark - 1kg Tackle |
| 1983 | G Artley | 38.5kg Blue Shark - 4kg Tackle |
| 1982 | H Oates | 123kg Striped Marlin - 24kg Tackle |
| 1981 | D Mallison | 27.5kg SBT - 6kg Tackle |
| 1980 | C Howard | 26kg SBT - 6kg Tackle |
| 1979 | T Groves | 123.5 Striped Marlin - 24kg Tackle |
| 1978 | K Cole | 22kg SBT - 6kg Tackle |
| 1977 | Rodney Beard | 82.5kg SBT - 50lbs Tackle |
| 1976 | T Little | 130lbs SBT - 20lbs Tackle |
| 1975 | Ed Wigston | 142lbs SBT - 50lbs Tackle |
| 1974 | David Shaw | 110lbs YFT - 20lbs Tackle |
| 1973 | Mrs Nan Lyall | 50lbs SBT - 20lbs Tackle |
| 1971 | E Wigston | 51lbs SBT |
| 1970 | - No Award - |   |
| 1969 | Keith Jessop | 297.5lbs Striped Marlin - 130lbs Tackle |
| 1968 | - No Award - |   |
| 1967 | - No Award - |   |
| 1966 | Mrs N Lyall | 59.5lbs SBT - 12lbs Tackle |
| 1965 | Mark Phillips | 50.5lbs SBT - 20lbs Tackle |
| 1964 | P Hindrum | 206lbs SBT - 50lbs Tackle |
| 1963 | E Wigston | 377lbs Mako Shark - 50lbs Tackle |
| 1962 | J Jacobs | 45lbs SBT - 12lbs Tackle |
| 1961 | J F Jacob | 87lbs SBT - 30lbs Tackle |