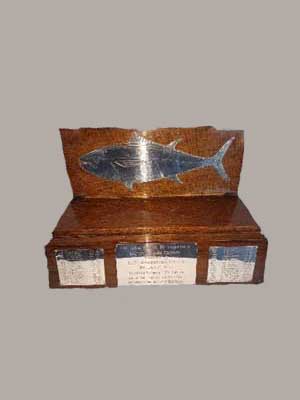 Royal Swan Trophy
Awarded for the heaviest Tunny fish (tuna species) captured in Southern Tasmanian waters (south of latitude 42°S and up to 200 nm to sea) by a Club member.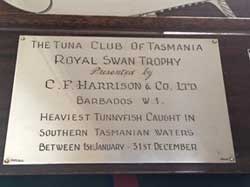 First Awarded
1961
History
The beautifully polished timber and silver piece was originally presented by C F Harrison & Co. Ltd from Barbados in the West Indies who are the makers of the famous Royal Swan Rum.
The trophy was donated by Traders Pty Ltd the then Tasmanian importer and agent for this rum brand, which is a very popular and perhaps traditional drink amongst Tasmanian seafarers.
The magnificent trophy and its origins were arranged by Mr Ian Cutler who was a former Manager of Eaglehawk Neck's iconic game fishing accommodation, the Lufra Hotel.
Capture or Tag-and-Release
Capture in accordance with GFAA & TGFA rules.
Eligibility
All Angler Classifications, Club Member.
---
Trophy Winners
| | | |
| --- | --- | --- |
| 2022 | Wesley van den Herik | 67.50 kg |
| 2021 | Simon Carroll | 137.00 kg |
| 2020 | Robin Banks | 13.30 kg |
| 2019 | Andrew Wardlaw | 111.30 kg |
| 2018 | Maximus Baillie | 127.80 kg |
| 2017 | Toby Nichols | 141.05 kg |
| 2016 | Antony Suttil | 126.2 kg |
| 2015 | Aaron Cashion | 112.35kg |
| 2014 | John Edwards | 88.30 kg |
| 2013 | Melissa Nelson | 108.50 kg |
| 2012 | Aaron Cashion | 29.60 kg |
| 2011 | Justin Baker | 90.50 kg |
| 2010 | D Vallance | 25.60 kg |
| 2009 | K Gilbert | 90.20 kg |
| 2008 | Daniel Vallance | 110.30 kg |
| 2007 | Steve Lichtendonk | 70.4 kg |
| 2006 | Ryan Baillie | 87 kg |
| 2005 | B Oakley | 58 kg |
| 2004 | S Bowerman | 68 kg |
| 2003 | J Hill | 38 kg |
| 2002 | R Banks | 39.20 kg |
| 2001 | M Boxall | 48.50 kg |
| 2000 | S Nuss | 87 kg |
| 1999 | R Cooper | 61.5 kg |
| 1998 | K Minehan | 91 kg |
| 1997 | Mark Schueltpelz | 46.50 kg |
| 1996 | Keith Russell | 28 .00 kg |
| 1995 | Wade Pelham | 35.00 kg |
| 1994 | Peter Baker | 36.40 kg |
| 1993 | Shane Heddle | 37 kg |
| 1992 | David Hallam | 35 kg |
| 1991 | Justin McCarthy | 45 kg |
| 1990 | David Hallam | 23.3 kg |
| 1989 | David Rose | 34 kg |
| 1988 | Lee Harris | 31.5 kg |
| 1987 | Toby Lyall | 40 kg |
| 1986 | Lee Harris | 35.25 kg |
| 1985 | Ashley Hallam | 126 kg |
| 1984 | Donald Brown | 6.760 kg |
| 1983 | D. Rose | 25 kg |
| 1982 | R. McCullock | 103 kg |
| 1981 | A. Lyall | 41 kg |
| 1980 | C. Reynolds | 48 kg |
| 1979 | R. Beard | 116.5 kg |
| 1978 | G. Holmes | 74 kg |
| 1977 | G. Harvey | 97 kg |
| 1976 | E. Wigston | 210 lbs |
| 1975 | E. Wigston | 142lbs |
| 1974 | H. Gratzer | 59 ½ lbs |
| 1973 | H. W. Oates | 50 lbs |
| 1972 | C. Johnston | 72 ½ lbs |
| 1971 | T.Bell | 54lbs |
| 1970 | R.C. Gibson | 69 ½ lbs |
| 1969 | J. Newman | 55lbs |
| 1968 | E. Canning | 40 lbs |
| 1967 | K. Jessup | 57 lbs |
| 1966 | A.C. Andrews | 166 lbs |
| 1965 | A.C. Andrews | 173 lbs |
| 1964 | P. Hindrum | 206 lbs |
| 1963 | J.R. Hughes | 216 lbs |
| 1962 | G. leveret | 213 lbs |
| 1961 | R.D. Rodger | 185 lbs |