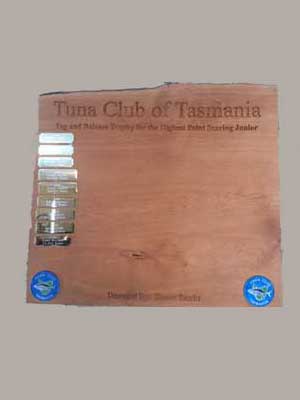 Shane Banks Trophy
Awarded for the highest individual Tag & Release Point Score Junior Angler during Club Rallies and Contests each season.
First Awarded
2009
History
The magnificent crafted solid timber shield was donated by Club Life Member Mr Shane Banks.
Shane is a very competent and awarded angler with a liking for light tackle. He has, over an extended period, been a tireless worker for our Club after joining in 1995. He has held various committee positions since 1998. In this 20-year period Shane was President in 2001, 2002, 2003 and 2007, Vice President in 2001 and 2002, Secretary in 2004 and 2005 and is our current Records & Tagging Officer. He has also served a year as a TGFA President and continues as a TGFA delegate and job shares the State Tag Coordinator role with brother Robin. He was responsible for getting Tag and Release up and running for the TCT and was the first and probably the longest standing T & R Coordinator for the Club. Shane was awarded Life Membership in 2009 for his service to the club.
Capture or Tag-and-Release
Tag-and-Release in accordance with GFAA & TGFA rules using approved tags.
Eligibility
Junior Angler, Club Member.
---
Trophy Winners
| | | |
| --- | --- | --- |
| 2022 | Zac Szymanski & Sarah Nichols | 20,000 points |
| 2021 | Max Baillie | 25,000 points |
| 2020 | Max Baillie | 200 points |
| 2019 | Dylan Baker | 5,000 points |
| 2018 | Toby Nichols | 10,000 points |
| 2017 | Scott Drysdale | 35,100 points |
| 2016 | Antony Suttil | 145,000 points |
| 2015 | Jake Dance | 45,400 points |
| 2014 | Kyle Longmore | 45,000 points |
| 2013 | Lochie Nichols | 26,000 points |
| 2012 | Lochie Nichols | 30,000 points |
| 2011 | Dylan Jarvis | 15,800 points |
| 2010 | Locki Nichols | 500 points |
| 2009 | Renee Little | 36,500 points |