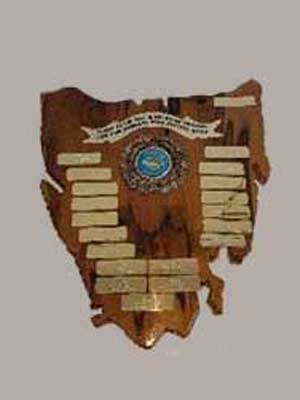 Malcolm Fitzpatrick Trophy
Awarded for the highest Tag & Release point score boat during Club Rallies and Contests each season.
First Awarded
1998
History
Donated by Mr Malcolm Fitzpatrick, former President.
Capture or Tag-and-Release
Tag-and-Release in accordance with GFAA & TGFA rules using approved tags.
Eligibility
Vessel owner/skipper, Club Member.
---
Trophy Winners
| | | |
| --- | --- | --- |
| 2021 | Centaur 1 | 120,000 points |
| 2020 | Nautibouys | 111,000 points |
| 2019 | Nautibuoys | 93,500 points |
| 2018 | Centaur 1 | 50,000 points |
| 2017 | Team Lowrance | 80,000 points |
| 2016 | Chief | 225,000 points |
| 2015 | Team Lowrance | 71,000 points |
| 2014 | Team Lowrance | 175,100 points |
| 2013 | Choona Chasa | 286,300 points |
| 2012 | Choona Chasa | 235,800 points |
| 2011 | Sub Zero | 55,000 points |
| 2010 | Reel Me In | 41,000 points |
| 2009 | Big Feet | 158,000 points |
| 2008 | Reel Legend | 19,400 points |
| 2007 | Reel Legend | 165,000 points |
| 2006 | Predator | 40,000 points |
| 2005 | Insanity | 7,000 points |
| 2004 | Gill n Gut | 32,600 points |
| 2003 | Savage Marlin | 5,500 points |
| 2002 | Gill n Gut | 41,500 points |
| 2001 | Humpy | 28,000 points (tie) |
| 2001 | Get Reel | 28,000 points (tie) |
| 2000 | Crazy Bear | 2,000 points |
| 1999 | Law Breaker | 22,250 points |